MK11 Sniper Weapon System (SWS)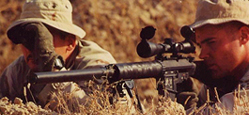 The US Navy MK11 Mod 0 Sniper Weapon System (SWS) is based on the highly-accurate SR-25 automatic rifle. It was originally conceived and constructed to meet a requirement placed by the Navy SEALs. The MK11 is a highly accurate and durable, precision semiautomatic sniper rifle that operates like an M16 or M4A1, and can deliver a 7.62mm round out to 1,500 yards. Due to its high degree of accuracy, (.5 inch MOA), it is has won acceptance by U.S. Special Operations Forces as one of the finest semiautomatic sniper rifles in the world.
The MK11 system consists of the rifle, 20 round box magazines, QD scope rings, Leupold Vari-X Mil-dot riflescope, Harris swivel-base bipod on a Knight's mount, QD sound suppressor, and back up iron sights. The free-floating 20 inch barrel and free-floating Rail Accessory System allow for extreme accuracy. This weapon fires the 7.62 NATO round, and is not capable of fully automatic fire.
Specifications:
Caliber: 7.62
Weight (Empty): 15.3 lbs.
Length: 45.5 in.
Effective Range: 1500 yards
Firing Rate: 750 rounds per min.
Muzzle Velocity: 2,951.5 feet per sec.
Feed: 20/10/5 rounds