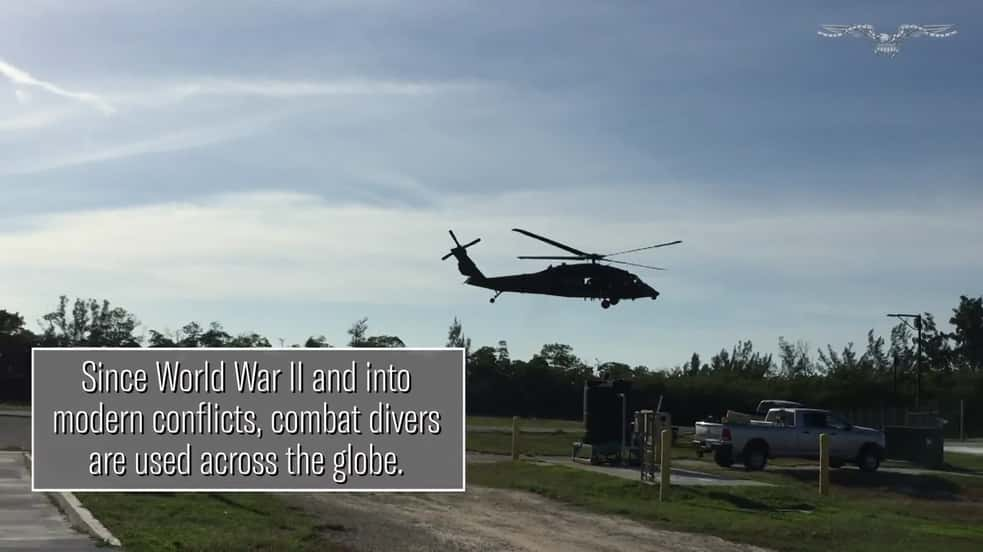 NAVAL AIR STATION KEY WEST, Florida — A UH-60 Black Hawk helicopter hovered so low on the water during a recent demonstration that it created concentric white caps, seemingly clearing an area in the salty sea off Key West for divers to slip in. Once the divers in full-body camo dropped slender from the helicopter one by one, they disappeared below the water's surface. And the chopper was off.
Armed and undetectable after six weeks of training at the Special Forces Underwater Operations School at Naval Air Station Key West, more than 1,000 divers annually are readied for global missions.
America's great power adversaries Russia and China boast a combined 32,000 miles of coastline where a clandestine beach entry may one day be required.
"It's paramount that we maintain a maritime mission readiness here in Key West," a Special Forces dive instructor told the Washington Examiner ahead of a Dec. 16 visit by acting Defense Secretary Christopher Miller.
"[We must] own the maritime battlespace above and below the surface," added the combat diver, with a dozen years of experience.
The Army Special Forces soldier withheld his name from the Washington Examiner for operational security, but he openly discussed the rigor of the six-week course that he leads in the warm coastal waters at the southernmost tip of Florida.
During World War II, the military executed several successful dive missions in both the European and Pacific theaters. Army Special Forces operators retained diving as a special skill, he said.
But it wasn't until 1964 that a centralized school was established in Key West. Now, Army Rangers and Green Berets volunteer to attend the Underwater Operations School to learn how to use specialized closed-circuit equipment, reduce their signature for subsurface infiltration, and maintain the absolute calm required to minimize oxygen usage.
"What we do is, we train special operations services in surface and subsurface maritime infiltration," the special operator said.
When Miller, himself a former special operator, visited the school at Fleming Key, he greeted special operators before boarding one of two UH-60s positioned at a nearby field for a demonstration.
The two choppers flew off the coast, and the secretary's helicopter hovered nearby. The secretary watched as the first team of divers was dropped to assemble a small inflatable boat for surface infiltration. Then, the secretary's helicopter lowered just feet above the water's surface as more divers dropped into the water and slipped below the surface.
They looked nothing like recreational divers.
The closed-circuit breathing apparatus they wear rests on their chest. It scrubs out exhaled carbon dioxide and re-oxygenates the air for continued breathing without emitting bubbles that would give away their position.
The specialized equipment allows these divers to remain below the surface much longer than a diver wearing a tank or two on their back. Additionally, with the front-mounted device, divers can carry a dry bag with communications and medical equipment and food on their back.
But unlike the underwater knife and harpoon fights of James Bond in the 1965 Thunderball, these Army soldiers' aim is not to fight an undersea enemy.
"I wouldn't say it's the cool stuff in movies," the special operator said, making note of the physical exertion required to get from a point in the ocean to the beach. "The real mission for us starts once we hit the land."
Once on the land, the soldiers will link up with partner or allied forces for a foreign internal defense mission.
"The diving piece of it is just how we are able to get there," he said.
The Key West school runs four courses: a basic combat diver qualification course, a combat diving supervisor course, a dive medical technician course, and a water infiltration course.
Advanced divers will be able to execute missions as complex as parachuting into the water and entering a submarine or placing underwater explosives, the dive instructor confirmed.
It's not the year-round sunshine and aquamarine waters of the Keys that led to the establishment of the school here. Its calm surf conditions allow for continuous training. Once the diver graduates, he or she will have the basic skills for detachment leadership to employ them in cold water and other adverse conditions.
The typical age of a student is 25 to 32 years old, but they do not have superhuman lung capacity or swimming strength.
"A person sitting static with a six-minute breathe hold, once you add stress, they'll only be able to work appropriately with say a 30-second breathe," the special operator said.
"So, we train guys to be able to get calm, cool, and collected in a very stressful hypoxic environment," he said. "Guys that are physically strong, that can run, have very good cardio, they have a better chance of success, but it's not the end-all, be-all."
Some 100 Army Special Forces divers will train each year, along with another 1,000 divers from across the services, agencies, and international partners. Thousands of Army Special Forces combat divers are deployed globally and interoperable with divers from across the military services.
"The National Defense Strategy focuses on great power competition at this time," said the special operator.
"Many of our near-peer adversaries have expansive coastlines and waterways. So now, you look at us with surface and subsurface capability," he said. "That's something that we can offer. This capability provides leverage as an adversarial deterrent, but it is also capable of being employed at any time."
https://www.washingtonexaminer.com/policy/defense-national-security/waging-war-below-waves-special-forces-combat-diver-school